Model 100 Heavy duty can opener is meant for cutting open around this of any size, (upto 5 kg) It is heavy cute type and of robust construction and hence is very useful to industries requiring large quantity of this/ cans to be opened.
Construction
Opener body is from mosaic bushes from self lubricating type sintered phosphor broze material, cutter wheel and rachet wheel from Alloy tool steel duly hardened and tempered for longer life.
Salient Features
It is very simple in operation yet does clean and neat cutting. No adjustments necessary for different diameters of heights of tins.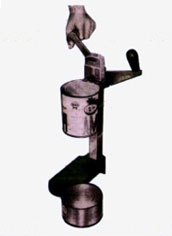 Base design enables clamping it to be a table or fixing it by screws on work top . Cam operated mechanism ensures easy piercing of tins. Opener is so designed as to grip the tin while cutting and hence no need of holding tin by hand while cutting. Spring loaded floating cutter wheel enables clean cutting of can throughout its periphery. Cutting action being rotor, the edge of the cutter wheel does not get blunt as in case of fixed type cutting blades hence no sharpening or replacement of blade for long time. All wearing out parts are made inter changeable type for easy replacement .Necessary parts are electroplated to prevent rust.
Users
Hotels, Flight kitchens/ Mess in big organizations, in defense& on ships, tin manufactures, canning industries and empty tins dealers and reconditioners.