Specification
CM 510 Body Beader is suitable for beading can bodies in the following fanges at an output speed of 20 to 25 cans per minute depending on operator's skill and size of container
Diameter Range: 75 mm to 175 mm diameter
Height Range : upto 250 mm high
Arranged for motor drive less motor and switch gear.
Standard Electrical Equipment
To suit 415+5% volts, 3 phase, 50 cycles supply.
B.1 1-H.P. ,1400 RPM Crompton motor, fraaame size D 80 S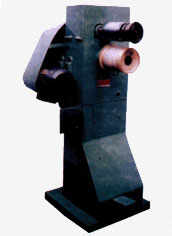 B.2 1- T.p.I.C switch Fuse 20 Amps. 500 volts.
B.3 1 -D.O.L.Push Button Starter for 1 H.P. Motor.
B.4 1-Cable, Conduit and Fittings.
Machine Dimension
Floor Space 30" x 27"Overall height 50"