This is an instrument for testing cans after both ends have been seamed on, to ascertain leaks in either the body or the end.
Tester Operation
To operate, the pointed portion of the spike is pushed into the can and rotated slightly. The lever on the side of the tester body is depressed to compress the rubber gasket to form an airtight seal. Air is then forced into the can, trough the air value, by means of the hand pump provided, to a pressure of 12 to 15 lbs per square inch (0.84 to 1.05 kg per square centimeter approx). After which the can is impressed in water to indicate the position of any leaks.
Tester Specifics
This instrument is supplied complete with pressure gauge, up to 30 lbs per square inch (2.1 kg per square centimeter approx) And pump, and is packed in a metal case.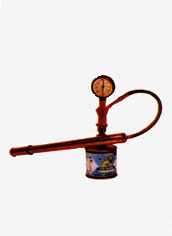 Specifications
English
Metric
Capacity
Least count of micrometer
0.001"
0.0254 mm
Dimensions & Weight
Height
5/8"
16 mm
Width
4 7/8"
124 mm
Length
5/8"
16 mm