This is improved type of double seamer ideal for short runs on a commercial scale or where a large range of cans is required to be closed. It has been specially designed so that changeovers are rapidly effected and this illustrates its suitability for this class of work.
The most important feature which distinguishes it from other makes of small capacity seamers, is the operation of the seaming rolls.
Double Seamer Operation
The can, with the lid in position, is located on the base plate. This is then lifted by a hand lever and seaming operation is actuated by pressing the trigger. On this machine the can rotates during the seaming position.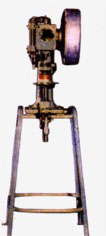 Seaming is performed in two operations. During the first operation, the curled edge of the round container and interlocks with the flange of the can body. During the second operation, the seam profile is completed, thus giving a compact seam that will be during subsequent handling.
Double seamer Specific
Changes it can height, while maintaining the same diameter of can, necessitate base plate adjustment only. Changes parts for all standard can sizes within the range of this machine are available on request. For other than standard sizes, samples of both the can and the end should be submitted when ordering.
If the machine is to be used for seaming bottoms on to reformed cans, a special base plate.
Specifications
English
Metric
Capacity
Can diameter
maximum
7"
177.8 mm
minimum
2 1/8
50.8 mm
Can height
maximum
9 3/8"
238 mm
minimum
7/8"
22 mm
Speed:
Cans per minute 8-20
Dimensions & Weight
Height
63"
1600 m
Width
25"
635 mm
Length
28 3/8"
711 mm
Net weight
214 lbs
97 kg
Shipping weight
392 lbs
178 kg